The end of the school year is in sight. My school district has seven days left, counting today. Our seniors are almost done and are wrapping up their high school careers. Our underclassmen are finishing cumulative projects and preparing to advance to the next grade level. There are awards ceremonies, student recognition ceremonies, last concerts, graduation rehearsal, and final exams.
Last week, I had the privilege of attending the Top 10 luncheon where the school district invites the Top 10 seniors in class rank from each high school campus, their principals, their parents, and each senior selects an influential teacher to attend with them. I attended with an amazing young woman, 3rd in her class, who is one of the smartest, kindest students I've known in 17 years of teaching. Her senior class, the Class of 2017, is one of the most compassionate classes I've taught. Yesterday, I had the honor to present three of my seniors with scholarships at the senior awards ceremony. I will deeply miss this senior class, and graduation will be joyous and sad.
As the campus Teacher of the Year, I have the honor of sitting on the stage with the class sponsors, the principals, school board members, and the interim superintendent. Watching each of them walk the stage will be bittersweet -excitement as they move to the next stage of their lives, sadness knowing I will not see them walking the halls of our high school next year. They will join me as alumnus of this school when the school year ends and graduation commences.
Today started out as a normal, end of the year day. I woke up later than I wanted to, but it's the end of the year, and I wasn't going to be late…I just woke up later than I planned. Since I knew I didn't have anything extra on my plate today at school, I threw on minimal makeup, a pair of black pants, a black and gray linen blend shirt, and a black cardigan. Appropriate attire for the end of the year, especially an end of the year which involves packing up my entire room.
Everything was totally normal until 8:15 am when our principal's secretary came down to my classroom. She held a note for me with a message to call our district's communication coordinator ASAP, which to me was strange because I knew I would see her tonight at the school board meeting. See, two weeks ago, all the campus Teachers of the Year were honored at a school board meeting. Then, the Friday after the board meeting, I was surprised by the interim superintendent and our communication's director during my second period class -They came to announce that I had been named Secondary Teacher of the Year for my district. I'm still shocked by it. All the campus Teachers of the Year are invited to apply as our district Teacher of the Year, which I did with no expectation of being selected by the committee who then selects a district Teacher of the Year for elementary and another one for secondary. Tonight, the district Elementary Teacher of the Year and I will be presented to the school board.
I called our communications coordinator, who is lovely, engaging, and savvy, and when she answered, she wasted no time.
"Channel 8 wants to come interview you and do a story about you," she told me.
Once I picked my jaw off the ground, I squeaked out, "But whyyyyyyyyyyyy?" I sounded much like the teenagers I teach.
She explained to me that last week when one of the local media outlets was at the district office for something, and she mentioned that one of the district Teachers of the Year (me) was campus Teacher of the Year at the same school she (me) graduated from, and the year she (me) graduated, her mom (my mom) was Teacher of the Year at that campus (because my mom made me go to the high school she taught at, and no, it was not an awful experience for me). On top of that, she (me) had two former students teaching in the district who are campus Teachers of the Year this year as well. This morning, the news outlet called our communications coordinator and told her they want to do a story about me and my mom sharing Teacher of the Year 20 years apart for the same campus because it's a unique human interest story.
Long story short, the news outlet came to my campus this morning, filmed me teaching, talked to one of my students, interviewed me, and then went to the school my mom teaches at now and interviewed her. If everything goes to plan, it's going to air tonight at 6 pm.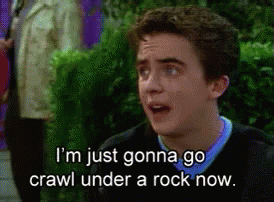 I honestly felt like the most inarticulate, silly, person ever as they interviewed me, and to be honest, I'm really worried about what they're going to air. I don't want to look stupid, and I'm afraid I came off as stupid.
So, I guess in a few hours, I'll see what they put together. Hopefully, it's better than I expect. The communications coordinator assures me that I did well and so did my mom, but still.
It's just been a really, REALLY, strange day.